Gay Atlanta: The Latest
Zendaya, Drama TV Star award-winning actress in "Euphoria" surprised a trans fan of the show last Friday, introducing her to co-star Hunter Schafer. The fan reached out to Zendaya as a fan and someone who was deeply inspired by Schafer.
Same-sex couple Kate Austin and Sarah Sulsenti were heartbroken when they learned that their parents would skip their wedding, disapproving of their sexuality. But, the two got a surprise from Ellen DeGeneres after tweeting at her. Read more below.
A gay rights activist says an Olathe City Council member should resign after she complained to his employer about his efforts to persuade the council to adopt an ordinance providing protections for LBGTQ residents.
Grammy winner Kacey Musgraves knows who the real star is in her family — her grandmother. That's why the singer put the woman she calls Nana in her upcoming holiday special, "The Kacey Musgraves Christmas Show."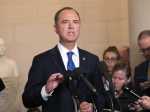 The reviews are biting: "mind-numbingly dull," "a huge dud" and "a frickin' joke."
Marguerite Perrin (aka the God Warrior) is again getting an Internet buzz for being seen in the most unlikely of places: the New York Gay Pride Parade last June.
Former "Empire" actor Jussie Smollett says his $10,000 payment after the close of a criminal case should prevent Chicago from seeking reimbursement for a police investigation of his claim that he was a victim of a racist and homophobic attack.
For Mondaire Jones - the openly gay African-American Democrat and candidate for the U.S. House of Representatives for New York's 17th Congressional District - "policy is personal," a philosophy he speaks to in a campaign ad video.
Ambassador Gordon Sondland told House impeachment investigators Wednesday that he worked with Rudy Giuliani on Ukraine at the "express direction" of President Donald Trump and pushed a "quid pro quo" with Kyiv because it was what Trump wanted.
The new biopic about Harriet Tubman stars Cynthia Erivo but the film could have starred someone very...different: Julia Roberts. At least according to "Harriet" screenwriter Gregory Allen Howard.
Meghan McCain, "The View" host and daughter of the late Sen. John McCain, has gone after openly gay Democratic 2020 hopeful, and mayor of South Bend, Indiana Pete Buttigieg before, and now she's slammed him again.
Two productions offer limited-run alternatives for family audiences headed to New York City this holiday season, but are they work the big-ticket prices?
WeWork's stock market fiasco has yet to reverberate much for its more than 600,000 tenants, spread across a global empire of gracefully designed co-working offices. But beneath the work-and-play cheer, there's unease.
The U.S. research vessel Sikuliaq can break through ice as thick as 2.5 feet (0.76 meters). In the Chukchi Sea northwest of Alaska this month, which should be brimming with floes, its limits likely won't be tested.

If true, it would be a figure both staggering and significant to the unfolding debate, as Americans try to understand how Warren's brand of a single-payer health system could affect their pocketbooks.
More than 800 rear-seat passengers who weren't wearing seat belts were killed last year in U.S. traffic crashes, and a highway safety group says states aren't making enough progress in getting people to buckle up.
Kylie Jenner is selling a stake of her beauty business to CoverGirl owner Coty, in a deal that values the reality TV star's company at about $1.2 billion.
The American Medical Association is calling for an immediate ban on all electronic cigarettes and vaping devices.
A newly launched tour of the Hudson Theatre offers a rare chance to wander around the interior of Broadway's oldest theater and hear some of the fascinating stories that have happened over its 116 years.

Vito Fun is not just another hot DJ, he is an institution in NYC nightlife, so it is not a surprise that his Fun Tea on Sunday afternoons is going to be THE Party this season.