Gay Atlanta: The Latest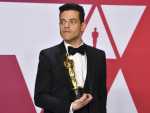 The 25th James Bond movie and Daniel Craig's fifth and final installment as 007 is heading home to Jamaica.
What else would you expect from Madonna at this point?
Could the source of sexual and romantic attraction between people of the same sex be hitherto-unknown "anal worms" that devour semen and not only make men gay, but turn women into "butch lesbians?"
In recent months, fast-food chain Chick-fil-A has been trying to fend off the persistent perception that the company is anti-LGBTQ. But for Montana's AG - and gubernatorial candidate - Tim Fox, that's all the more reason to invite the company in.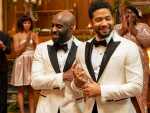 The cast of "Empire" shared an open letter urging Fox and the creative team behind the drama to bring actor Jussie Smollett back to the show for an unconfirmed sixth season.
The owner of a Kentucky barbeque food truck got more heat than he bargained for when he began selling T-shirts with the message "I support LGBTQ: Liberty, Guns, Bible, Trump, BBQ."
Evangelist Frank Graham took to Twitter to call out Mayor Pete Buttigieg for being gay, but the hosts of MSNBC's "Morning Joe" had some choice words for religious figure.
The chairman of Poland's conservative ruling party, Jaroslaw Kaczynski, has called the LGBT rights movement a foreign import that threatens the Polish nation.
A study has found that Germans are increasingly hostile toward asylum-seekers, whereas prejudices toward other minorities such as homeless or gay people have declined.
A breakdown of the 20 candidates.
A 69-year-old Arkansas woman who was convicted of fatally shooting her husband after she discovered he had reordered a pornography channel has been sentenced to 16 years in prison.
In the Second Season of the Netflix animated Original Series "She-Ra and the Princesses of Power," the rebellion continues to force back the evil Horde and enlists the help of Bow's two dads to decipher an ancient mystery!
A controversial proposal to increase housing near transportation and job hubs faces a key test Wednesday as California lawmakers search for solutions to the state's housing affordability crisis.
An attorney representing the father of a victim in last year's Florida high school massacre told a judge that mental health counselors must share the blame, because they knew Nikolas Cruz was "a ticking time bomb."
Don't let any of these myths prevent you from making the most of available travel rewards.
Google's self-driving car spinoff Waymo says it will reopen an axle plant in Detroit to convert conventional vehicles so they can drive autonomously.
High-end designers are "upcycling" discarded objects into unique, desirable design pieces.
Opinions differ over how much progress has been made, but it's clear for true inclusion to occur there needs to be more support within the queer community for its Deaf members.
Travel vlogger Bradley Birkholz heads to ome, Florence, Venice, and The Vatican City — mangia!
Over 350 Sister's of Perpetual Indulgence from around the world came out to San Francisco on Easter Sunday to celebrate their 40th anniversary. The Hunky Jesus' and Foxy Mary's also came out to celebrate on this festive day,