Top Story
President Donald Trump and his team are distorting the facts in explaining the administration's decision to stop California from setting its own emission standards for cars an...
Researchers from more than a dozen nations prepared Friday to launch the biggest and most complex expedition ever attempted in the central Arctic — a yearlong journey through the ice they hope will improve the scientific models.
The call came on a Saturday in July delivering grim news: Many of the computer systems serving the government of LaPorte County, Indiana, had been taken hostage with ransomware. The hackers demanded $250,000.
The Navy is updating its guidelines to encourage pilots to more thoroughly report what they see, and investigators have been traveling to bases to talk to aviators.
In a new video released by intomore, four older gay men try Grindr for the first time. From setting up their profiles to exploring nearby matches, watch these 65 and ups learn the wild world of Grindr...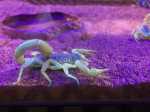 In movies, on the skin of many tattoo lovers and in one of the 12 astrological signs, scorpions' distinct shape and supposed attributes are often on display. They are portrayed as savage, lethal, true warriors — not far off from what we were about to see.