1 thru 10 of 4077 Stories
Sofia Loren and Valentino have received a standing ovation from a packed house of fashion and Hollywood A-listers during the third edition of the Green Carpet Awards honoring progress toward sustainability.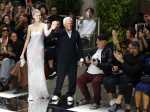 Milan designers are presenting fashion as essential. That no longer refers to must-haves, but to a distillation of ideas, discarding excess in collections and by example in wardrobes, to discourage waste.
The dual tones were the strongest trend among the women on Sunday night, where outfits from Zendaya, Gwendoline Christie and current red carpet darling Billy Porter also turned heads.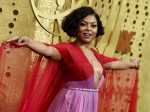 Did someone send a memo? Taraji P. Henson, Zoe Kazan, Susan Kelechi Watson, Mandy Moore and Marisa Tomei all showed up to the Emmys in two-tone looks of pink and red that stood out on the awards' purple carpet.
Highlights from Sunday's shows on the fifth day of Milan Fashion Week mostly womenswear previews for Spring/Sumer 2020.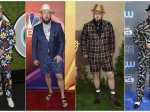 Chris Sullivan may or may not win at this weekend's Emmy Awards, but it's a sure bet that when he strikes a pose on the red carpet, his unconventional attire will make a statement.
Jennifer Lopez won Milan Fashion Week on Friday, wowing the crowd at Versace when she emerged wearing a version of the jungle dress that nearly broke the internet almost 20 years ago.
A naïve streak is running through the collections on preview during Milan Fashion Week — with a return to simpler times, yesteryear prints and patterns and unfussy silhouettes.
Prada, Arthur Arbesser, No. 21, Jil Sander and more hit the runway in Milan with their spring/summer 2020 collections.
Highlights from Wednesday's shows launching Milan Fashion Week of mostly womenswear previews for spring/summer 2020:
1 thru 10 of 4077 Stories