Top Story
"Queer Eye" returns for its third season on Netflix Friday and for better or for worse, it sticks to its formula that propelled it into a cultural hit.
Want to have the perfect home? It might be time to break out the piggy bank since Americans estimate it would take more than $18,000 to turn their house into a dream home.
Looking to have the best yard on the block? Make sure you have a nice mailbox, a mowed lawn and avoid garden gnomes at all costs, according to new research.
The way most of us speak today is shaped in part by how long ago our ancestors gave up chewing tough, raw meat.
Lip Smacking Foodie Tours has arrived in San Jose's Santana Row in the heart of Silicon Valley.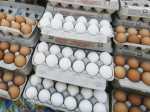 The latest U.S. research on eggs won't go over easy for those can't eat breakfast without them.