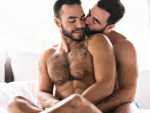 Popular culture overflows with sex, from cinema to advertising to, yes, even politics. And for many, sex represents one of the most intimate forms of human connection.
GAINSWave Acoustic Wave Therapy is now available to treat the cause and not just the symptoms of erectile dysfunction. A leading doctor shares insights about this cutting-edge technology.
These findings challenge what porn scholars call the "negative effects paradigm," which sees porn as an inherently bad thing that cultivates harmful attitudes.
Millions of glasses wearers 'regularly' have sex in their specs but have suffered embarrassing consequences as a result.
More and more women are reporting that they're bisexual. But in the most recent survey, one subset stood out: 23% of black women in the 18 to 34 age group identified as bisexual.
In this column, I'll share some insights from Justin Lehmiller, an esteemed Research Fellow at The Kinsey Institute and author of the book 'Tell Me What You Want: The Science of Sexual Desire.'
Treating the cause of erectile dysfunction instead of just treating the symptoms has eluded many — until now.
Amidst the trend towards mindfulness and minimalism, Americans are increasingly finding happiness in cleaning — and the numbers are backing it up.
Called "Right to Desire," a new website brands libido as a feminist "right," and its home page offers the defiant, in-your-face prompt: "Yes, I want my desire back."
Pregnant women, young men and teens are all part of the rapidly growing number of syphilis patients coming to the Choices Medical Services clinic in the rural southwestern corner of Missouri.