Island House held their Bow Ties & Birthday Suits Pool Party during Key West Fantasy Fest.
Philadelphia Gay Men's Chorus held their annual fundraiser, Stargaze Masquerade, which included performances from PGMC's select ensemble Brotherly Love and special theatrical guests, John Jarboe & the Bearded Ladies Cabaret featuring Martha Graham Cracker
The Ali Forney Center held its annual A Place At The Table benefit at Cipriani Wall Street with host Billy Porter and special guests Lindsay Lohan, Scissor Sisters Jake Shears, Baby Daddy, Del Marquis and many more.
This year's Come Out With Pride celebration was so huge, that we just had to post part two.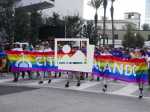 What a beautiful day for a celebration! The crowds came out to show their Pride and to support the LGBTQ community as they enjoyed this year's Come Out With Pride.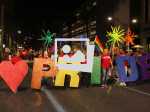 Downtown Las Vegas celebrated its largest Pride yet, with a fabulous nighttime parade and a day and a half of festival fun.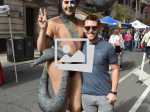 The Gayborhood was all a flutter with their annual Outfest celebration! With over 55,000 people in attendance, vendors and sponsors lined along the streets, performers on stage, and the award presentations, a fabulous day was had by all.
Over 30,000 members of the LGBTQ community donned their red t-shirts and rainbow mickey ears for the 22nd annual Disney Gay Days Anaheim, where the happiest place on earth became the gayest place on earth.
Gay Days Anaheim held their Plunge pool party for those who needed a break from the hot California sun and wanted to enjoy the cool water, great music, cold drinks and hot Mermaid and Merboys!
Gay Men's Health Center held their Fall Gala at Cipriani with many special guests, awards and an appearance by the House of Xtravaganza.