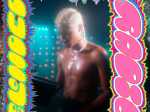 Frank Ocean's Blonded brand is set to host a queer club night called PrEP+, so named for the HIV prevention drugs, and to imagine what the 80s would have been like if PrEP had existed then.
2019 has been a great year for Pride festivals and parades nationwide, many of which commemorated the 50th anniversary of the Stonewall Uprising. Check out our roundup of EDGE coverage and photo albums from this year's events so far!
Boston's Society of Arts + Crafts hosts a special Gay Pride Month event featuring stage, television, and movie star Alan Cumming in conversation with Boston artist and designer Izzy Berdan. "Conversation and Q+A with Alan Cumming," a benefit for SA+C.
DC natives Lionize opened a packed show for with Wolfmother all the way from Australia for this East Coast tour show at the 9:30 Club.
Temptation Sundays returns for its tenth season. EDGE chatted with Tim Evans, Luxor's Director of Marketing, who conceived of what has become Las Vegas's sizzling summer LGBTQ pool party.
Las Vegas is rolling out the rainbow carpet this year with signature events, including the tenth anniversary of Temptation Sundays at Luxor, as well as Pride, Dining Out For Life, and Bigger Vegas.
Kristen Porter Presents Dyke Night® hosts LUSH: the official Womxn Pride Party, the longest running most award-winning womxn pride party in the city. LUSH takes place on June 8, 9 pm to 2 am at ICON Nightclub, 100 Warrenton St., Boston, MA.
An all-male underwater burlesque show? Your dreams have come true, thanks to MeduSirena's Aquanauts, who arrive this February at B Ocean Resort.
The Illinois Office of Tourism debuted a new larger-than-life art installation celebrating its "Amazing for All" LGBTQ and diversity campaign during Northalsted Market Days in Chicago's Boystown neighborhood.
It's time to start fluffing your wigs and polishing your marching (or runway) boots -- 2018 New York City Pride is almost here!