Trans YouTube Makeup Artist Tells Ellen About Blackmail Attempt, Coming Out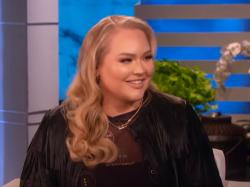 YouTuber celeb and influential makeup artist Nikkie de Jager, a.k.a. NikkieTutorials, appeared on "Ellen" to tell the openly gay talk show host and comedian about the circumstances that led to her dramatic coming out as trans in an emotional video she posted at her channel on Jan. 13.
As reported here at EDGE, de Jager told her audience that she was faced with blackmail by unidentified parties and that she wanted to share the news "under my own circumstances... today I am taking back my own power" in sharing the news.
Saying that the world is "full of labels," Nikkie shared she wanted to be "my own person" and to live "without any labels and without any restrictions."
"I want to start the year off with the truth... by finally revealing a part of my life that had made me who I am... a part of myself that makes me, me."
Adding that "it is time to let go and be truly free," Nikkie went on to say, "I was born in the wrong body. Which means I am transgender."
"I've been wanting to share this side of myself to all of you for so long, but I could never figure out the timing," Nikkie went on to say. "And there always was gonna be the day where I would tell you. I did not expect that day to be today, but here we are."
Nikkie added: "If we are gonna put a label on it, yes, I am transgender. But at the end of the day, I am me."
Nikkie's video was viewed 31 million times, Ellen DeGeneres told viewers, before welcoming de Jager on her show.
"Coming out is never an easy thing to do, and I cannot imagine being put in a position where you have no choice," Ellen prefaced her conversation with Nikkie. "But that's exactly what happened to our next guest."
After a clip from the now-famous video, Ellen welcomed Nikkie onto the set of her show, where Nikkie explained the circumstances around her disclosure.
"A couple of weeks ago I got emails from a certain person and he was not okay with the fact that I was 'lying' and wanted to expose that," the makeup artist revealed.
"He had a very pressuring tone of voice, and he was like, 'If we don't get an answer by tomorrow, it's out.' And I feel like his entire goal was, with this, to destroy my life." Added Nikkie: "But, plot twist: That didn't happen!"
Instead, Nikkie decided that although she would have preferred to wait until a time of her own choosing to come out, she was going to respond to the situation by taking control of it.
"The response has been fantastic," Ellen noted.
"It's really unreal," Nikkie replied, before recalling that she was nervous and crying before posting the video. "And my fiancé Dylan was right next to me - he was like, "You can do it, you can do it.' "
In the course of her video, de Jager had shared the story of how she came out to Dylan, a course of action that many may feel was fraught with risk. As anti-LGBTQ sentiment has risen around the world in parallel with a resurgence of authoritarian governments and intolerance of all stripes, trans women have taken the brunt of a new and brutal wave of often-lethal violence. Recent years have seen record-setting numbers of lethal anti-trans violence; it was only hours into January 1 when gun violence claimed 2020's first trans victim.
Revealing that she is trans to him was frightening, Nikki disclosed in her video, but he was accepting. Saying that she wanted to keep her private life private, she added: "Just know that we're working."
Nikki went on to encourage any of her audience members in a similar situation to offer full disclosure to the person they loved - but, she cautioned, only when "you know that you are in good hands... in safe hands."
Dylan was not the only one to show acceptance and love, Nikkie told Ellen, After she posted the video, Nikkie recalled, she was anxious as to what the reaction would be - but her audience flooded her with supportive messages.
"And I was so happy," Nikkie recalled, "that it is 2020 and the acceptance is real."
Nikkie had disclosed in her video that, like many trans people, she knew from an early age that her body did not match her sense of herself and her gender. She reiterated that to Ellen.
"I was just always so confused," she recalled. "I was like, 'Why do I have to wear that?' Or, 'Why don't I have long hair?' " Referencing her mother's early support, Nikkie said "My mom is a queen!
"And when we went to the hospital to see what was going on, doctors were, like, 'Don't push it... let's see where it goes.' "
Nikkie's mother decided to let her young child take the lead; after all, the only person who can reliably indicate what's going on inside their own skin is that person him- or herself.
"Then I came home and I was, like, 'Mom, I really want to wear girl clothes.' And she was like, 'If you want to wear girl clothes, you're gonna wear 'em,' " Nikkie recounted.
Not everyone has such accepting parents; indeed, even understanding parents who want the best for their children may soon be prevented, in some places, from sparing their children the trauma of being forced into gender roles that they do not identify with, the physiology of their bodies notwithstanding. Republican lawmakers in several states have recently drawn up slates of anti-trans bills, some of which would target doctors with felony prosecution if they treat trans children according to the children' best interests according to medical science, rather than treating their young trans patients according to lawmakers' own opinions on the subject.
Ellen spoke to the truth of Nikkie's situation and the purported accusations of the person who allegedly tried to blackmail her.
"I don't think that was lying," Ellen said of Nikkie's desire to wait until a time of her own choosing to self-disclose as transgender. "First of all, it's your own private business. And you're teaching people how to put makeup on that's got nothing to do with anybody."
"Exactly," Nikki agreed.
"I always wanted to come out with it," Nikkie went on to say. "But it is such a delicate thing that... how do you find the timing? There is never the perfect timing. So - in a way, because I am not thankful to the person who did this - I am thankful that it happened now, and now I get to be free."
Nikkie acknowledged that she was coming from a place of privilege not necessarily available to other trans people.
"I started when I was really young," she noted. "I passed. I am blonde. I look cis."
Nikkie than repeated something she had made of saying in her coming out video: That she was hopeful her story might inspire trans youths who are not as lucky as she has been.
"As long as I get to be myself and inspire 'little Nikkies' to be themselves, that's all I can do."
Ellen ended the conversation with the announcement that her show would be making a $10,000 donation to the nonprofit The Trevor Project, which advocates for LGTBQ youth and works to prevent their suicides.
Watch the "Ellen" segment below.
Kilian Melloy serves as EDGE Media Network's Assistant Arts Editor. He also reviews theater for WBUR. His professional memberships include the National Lesbian & Gay Journalists Association, the Boston Online Film Critics Association, The Gay and Lesbian Entertainment Critics Association, and the Boston Theater Critics Association's Elliot Norton Awards Committee.
Comments on Facebook