1 thru 10 of 27970 Stories
President Donald Trump suggested that he raised former Vice President Joe Biden and Biden's son in a summer phone call with Ukraine's new leader.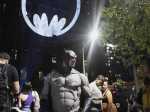 It's no joker. The night is lighting up Saturday around the world with the famous bat signal to mark a special anniversary for Batman.
The newly upgraded elevator at the Washington Monument stopped working just days after reopening to the public following a three-year renovation project.
In the weeks since three high-profile shootings in three states took the lives of more than two dozen people in just one week in August, law enforcement authorities nationwide reported a spike in tips.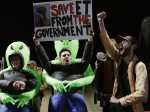 Events involving thousands of Earthlings answering an internet buzz about an invitation to "Storm Area 51" in the Nevada desert have been mostly festive, with crowds numbering in the low thousands and few arrests, officials said.
Emergency workers used boats Friday to rescue about 60 residents of a Houston-area community still trapped in their homes by floodwaters following one of the wettest tropical cyclones in U.S. history.
A diver and maritime history buff has found two schooners that collided and sank into the cold depths of northern Lake Michigan more than 140 years ago.
Thousands of curious Earthlings from around the globe traveled to festivals, and several hundred made forays toward the secret Area 51 military base in the Nevada desert on Friday.
Facebook said Friday that it has suspended "tens of thousands" of apps made by about 400 developers as part of an investigation following the Cambridge Analytica scandal.
Young people afraid for their futures protested around the globe Friday to implore leaders to tackle climate change, turning out by the hundreds of thousands to insist that the warming world can't wait any longer.
1 thru 10 of 27970 Stories