1 thru 10 of 27540 Stories
Philadelphia police must use a person's chosen name and pronoun when interacting with someone who is transgender, regardless of what is listed on their government-issued identification card.
Two and a half years into the Trump presidency, the exclusionary rhetoric emanating from the top might be doing even more damage than feared, a new poll showing declining acceptance of LGBTQs among America's younger set suggests.
Arlington County has indicated it will set out more concrete rules surrounding the rights and protections of students based on gender identity.
Kansas will allow transgender people to change their birth certificates so the documents reflect their gender identities under a legal settlement that Democratic Gov. Laura Kelly's young administration and LGBTQ-rights advocates announced Monday.
The leader of West Virginia's Republican party applauded a state senator's call for intolerance against members of the LGBTQ community.
Chicago police released more than 1,000 files from the investigation into Jussie Smollett's claim he was attacked by two men, including video footage that for the first time shows the actor with a thin, white rope wrapped around his neck.
A special prosecutor was requested to investigate the fatal shooting of a black man by a white police officer in a case that has inflamed tensions and roiled the Democratic presidential campaign of Mayor Pete Buttigieg.
President Donald Trump said Monday that a New York-based advice columnist who has accused him of sexually assaulting her in a New York City department store in the mid-1990s is not his "type."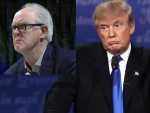 John Lithgow joined the growing list of actors who have taken on the role of President Donald Trump, portraying the world leader in a live reading of former special counsel Robert Mueller's investigation of Trump's 2016 campaign.
Tourism in a small Virginia town has suffered little in the year since The Red Hen restaurant famously refused to serve President Donald Trump's spokeswoman, Sarah Huckabee Sanders.
1 thru 10 of 27540 Stories