1 thru 10 of 5570 Stories
Serbia's president pledged Sunday to defend the country's law and order a day after opposition supporters stormed the national TV station, protesting what they called his autocratic rule and biased grip on the country's media.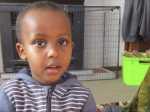 Before he became the youngest known victim of Christchurch's mass shooting, 3-year-old Mucaad Ibrahim had possessed an intelligence beyond his years, and an affinity for his elders.
British Prime Minister Theresa May warned Sunday that it would be "a potent symbol of Parliament's collective political failure" if a Brexit delay meant that the U.K. has to take part in May's European elections.
Paris cleaned up one of the world's most glamorous avenues Saturday after resurgent rioting by yellow vest protesters angry at President Emmanuel Macron stunned the nation.
A rabbi who packs a gun. A church installing security cameras. A police car protecting a mosque.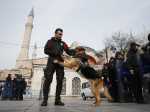 The white supremacist suspected in the mosque shootings that left at least 50 people dead in New Zealand had traveled to the Balkans in the past three years, where he toured historic sites.
Far Right Australian politician Fraser Anning made headlines yesterday when he blamed Christchurch slaughter on immigration policies that "allowed Muslim fanatics to migrate to New Zealand in the first place." Today he has egg on his face.
Italy prosecutors have opened an investigation into the possible poisoning death of a Moroccan model who was a key witness in the trial against ex-Premier Silvio Berlusconi over his infamous "bunga bunga" parties.
The leader of Poland's right-wing ruling party has used hostile language while speaking against rights for LGBT persons, a subject that has risen to prominence in his political campaign ahead of crucial elections in Poland this year.
French yellow vest protesters set life-threatening fires, smashed up luxury stores and clashed with police Saturday in the 18th straight weekend of demonstrations against President Emmanuel Macron.
1 thru 10 of 5570 Stories