Watch: Family of Gay Black Teen Seeks Justice After Killing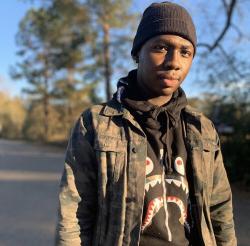 A lawyer representing the family of a gay African American 17-year-old killed in Louisiana says they believe their son's shooting death was a hate crime and are now pressing to "ensure a full, fair, and just investigation is happening," reports local news source WWL Eyewitness News.
Ja'Quarius Taylor's body was discovered bound and with a gunshot wound to the head on Jan. 12, reports said. His body was in a wooded area near a lake in Washington Parish, Louisiana.
A Jan. 17 item posted by local news station WVUE said that divers checking out the bottom of the lake had retrieved "a key piece of evidence" in the case, though the report did not offer specifics.
News channel WWL interviewed the lawyer, who said that the teen's family was "not very comfortable with the local police and the way they have done the investigation already."
The lawyer's statement referred to "perceived conflicts of interest and family relations" on the part of the unnamed sheriff.
LGBTQ advocacy groups took note of the slaying, with the Human Rights Campaign's president, Alphonso David, posting that the "apparent hate crime" was "horrific," and the public policy director at the True Colors Fund, Dean Waguespack, suggesting in a tweet that local law enforcement was playing down the crime.
"He was 17-years-old and set to graduate high school this year and then be the first in his family to attend college this fall," Waguespack tweeted, before following up with: "You won't see this on the news because law enforcement is keeping it close to the vest. His family wants the world to know what happened to their child and for everyone to join them in calling for justice."
This is Ja'Aquarius Taylor. He was 17-years-old and set to graduate high school this year and then be the first in his family to attend college this fall. Ja'Aquarius was murdered last weekend in Bogalusa, Louisiana. His family believes he was killed for being Black and gay. 1/2 pic.twitter.com/rKvrPKEccL— Dylan says Trans Rights (@DylanMercury) January 19, 2020
News channel WWL noted that the sheriff's office had weighed in, saying that the FBI was helping with the investigation, and adding that while the crime is currently being investigated as a murder, the investigation may turn into one regarding a hate crime if evidence indicates that anti-LGBTQ bias or race might have been motives.
The Sheriff's Department also declared that no "conflict of interest" exists.
Watch the WWL news clip below.
Comments on Facebook