1 thru 10 of 2691 Stories
An autopsy says natural causes claimed the life of a North Carolina prosecutor found dead at home last year amid attention over "The Staircase" documentary series.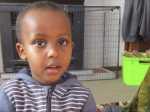 Before he became the youngest known victim of Christchurch's mass shooting, 3-year-old Mucaad Ibrahim had possessed an intelligence beyond his years, and an affinity for his elders.
Paris cleaned up one of the world's most glamorous avenues Saturday after resurgent rioting by yellow vest protesters angry at President Emmanuel Macron stunned the nation.
A 24-year-old man was arrested Saturday in the shooting death of the reputed boss of the Gambino crime family, New York City police said.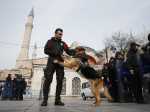 The white supremacist suspected in the mosque shootings that left at least 50 people dead in New Zealand had traveled to the Balkans in the past three years, where he toured historic sites.
Italy prosecutors have opened an investigation into the possible poisoning death of a Moroccan model who was a key witness in the trial against ex-Premier Silvio Berlusconi over his infamous "bunga bunga" parties.
The suspected New Zealand shooter carefully modeled his attack for an internet age.
Those who watched Brenton Tarrant growing up in the sleepy Australian country town of Grafton say they had no inkling of the potential evil he allegedly unleashed in merciless gunfire at two New Zealand mosques that claimed at least 49 lives.
When the gunman advanced toward the mosque, killing those in his path, Abdul Aziz didn't hide. Instead, he picked up the first thing he could find, a credit card machine, and ran outside screaming "Come here!"
Internet companies scrambled Friday to remove graphic video filmed by a gunman in the New Zealand mosque shootings that was widely available on social media for hours after the horrific attack.
1 thru 10 of 2691 Stories