Gay Atlanta: The Latest
Last summer tattoo artist Clément Grobotek turned heads in France with the publication of "Moi, j'embrasse" ("Me, I Embrace"), his account of his escort days. It looks like it will soon be a six-part television series.
More adults than ever before identify as LGBT according to a new Gallup poll.
The Democratic-led House passed a bill Thursday that would enshrine LGBTQ protections in the nation's labor and civil rights laws, a top priority of President Joe Biden, though the legislation faces an uphill battle in the Senate.
Fashion designer Alexander Wang has been hit with yet another accusation of sexual assault.
Legislation to ban transgender athletes from participating in girls' sports would likely result in vulnerable students being marginalized while also harming Tennessee's ability to recruit athletes and businesses, says the state's only gay GOP lawmaker.
Several Pride events around the country have announced dates, themes and changes to their organizational structure.
Mr. Potato Head is no longer a mister. Hasbro, the company that makes the potato-shaped plastic toy, is giving the spud a gender neutral new name: Potato Head. The change will appear on boxes this year.
Once known for singer Anita Bryant's anti-gay rights campaign and a ban on gay and lesbian adoptions, Florida is now home to two metro areas with among the highest concentrations of gay and lesbian coupled households in the U.S.
Here are five ways that parents and caregivers can fight gender stereotypes in kids' lives.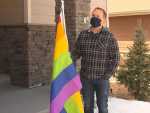 A married gay couple in Whispering Pines, Colorado, was ordered to take down their LGBTQ Pride flag. They've responded by filing suit on the basis their freedom of speech has been violated.
U.S. Rep. Marie Newman of Illinois has responded to the transphobic attacks launched against the Equality Act by U.S. Rep. Marjorie Taylor Greene of Georgia by hoisting the flag high - the trans flag, that is.
Now in her seventh decade as an entertainer, Olivia Newton-John has proven herself to be a versatile artist, including recent duet with her daughter and a recently published memoir.
Transgender models continue to make inroads in the fashion industry, but not without risk. Now they're speaking up to advocate for fair and safe working conditions.
First-generation COVID-19 vaccines appear to be working against today's variants, but makers already are taking steps to update their recipes if health authorities decide that's needed.
As owners are forced to shut businesses, they've had to figure out what to do next. For many entrepreneurs, the answer has been anticipating the next trend and creating a company to take advantage of it.
On the surface, getting out of a car lease isn't difficult. It's the potential financial penalties for doing so that are the issue. Minimizing this financial fallout is key.
Five designers of African origin making their runway debuts opened Milan Fashion Week, having nurtured dreams deemed fanciful in their native countries and which faced considerable obstacles coming to fruition in their adopted Italy.
The new hit series "It's A Sin" has helped spark a record-breaking rise in HIV testing in the U.K.
Qantas Airways does not expect to resume international travel apart from New Zealand until late October after the Australian population is vaccinated for COVID-19, the airline's chief executive said on Thursday.
British police have fined dozens of people for breaking coronavirus restrictions after officers found 150 guests packed into an illegal nightclub in England over the weekend.