1 thru 15 of 3272 Stories
If the executive branch were to overrule the FDA's scientific judgment, a vaccine of limited efficacy and, worse, unknown side effects could be rushed to market.
The Atlantic's record-breaking "crazy" hurricane season got a bizarre European remake Friday as forecasters ran out of traditional names and trotted out the Greek alphabet for subtropical storm Alpha.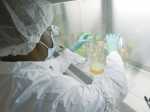 A drug company says that partial results from a study testing an antibody drug give hints that it may help keep mild to moderately ill COVID-19 patients from needing to be hospitalized, a goal no current coronavirus medicine has been able to meet.
Even though Scientific American had never endorsed a presidential candidate in the magazine's 175-year history, its top editor said Tuesday there was little internal debate over a decision to back Democrat Joe Biden.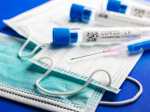 The Food and Drug Administration is weighing whether to follow British regulators in resuming a coronavirus vaccine trial that was halted when a participant suffered spinal cord damage.
Astronomers have found a potential sign of life high in the atmosphere of neighboring Venus: hints there may be bizarre microbes living in the sulfuric acid-laden clouds of the hothouse planet.
China's Mars probe Tianwen-1, which blasted into space in July, is now more than 15 million kilometers (9 million miles) from Earth en route to the red planet, the National Space Administration said Saturday.
The top U.S. infectious disease expert said AstraZeneca's suspension of final testing of its COVID-19 vaccine candidate shows "one of the safety valves" built into the studies to spot any potential problems.
What's more risky to do this holiday weekend, going to the movies or playing tennis? Before you do anything, perhaps it best to check this visual guide from the Texas Medical Association.
An elephant who has become a cause celebre for animal rights activists around the world will be allowed to leave his Pakistani zoo and transferred to better conditions, the animal welfare group helping with the case said Saturday.
Ever wonder if you have narcissistic tendencies? Take this quick test and see.
Find out how EVO3 Oils turns organically grown hemp into some of the best full-spectrum CBD oils in the industry.
Touted by the president, critics of the convalescent plasma treatment say there must be randomized clinical trials to prove its effectiveness.
A biomedical engineering lab at Purdue University has developed a way to potentially neutralize viruses lingering in the air using aerosols of FDA-approved food coloring dyes.
Can a latent infection explain some of the lingering symptoms of COVID-19 or pose a risk for transmission of infection to others even after recovery?
1 thru 15 of 3272 Stories