1 thru 10 of 8670 Stories
British Prime Minister Boris Johnson has slammed the brakes on the country's return to offices, saying people should work from home if possible, to help slow the spread of the coronavirus.
"He doesn't want to crush the virus. He wants to crush the Affordable Care Act," says House Speaker Nancy Pelosi of President Trump. Will his wish come true with a shift in the Supreme Court?
The top U.S. public health agency stirred confusion by posting — and then taking down — an apparent change in its position on how easily the coronavirus can spread from person to person through the air.
Joe Biden on Sunday used the sudden Supreme Court vacancy to reinforce his argument that the upcoming election should be a referendum on President Donald Trump's handling of health care and the coronavirus.
Political pressure grew Monday in Europe for governments to tackle the rising number of coronavirus case without resorting to a spring-style lockdown that would hit the continent's struggling economies.
In recent weeks, Queensland and the ACT became the first Australian jurisdictions to ban conversion therapy but a national approach is needed.
When most of Europe locked down their populations early in the pandemic by closing schools, restaurants, gyms and even borders, Swedes kept enjoying many freedoms.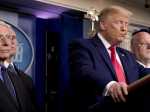 As the coronavirus pandemic began bearing down on the United States in March, President Donald Trump set out his expectations.
The fitness industry has begun to push back at the pandemic-driven perceptions and prohibitions. "We should not be lumped with bars and restaurants," says an executive from the International Health, Racquet & Sportsclub Association.
U.S. health officials on Friday dropped a controversial piece of coronavirus guidance and said anyone who has been in close contact with an infected person should get tested.
1 thru 10 of 8670 Stories