Scotland, PA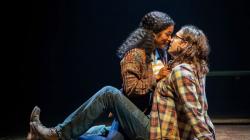 Based on the 2001 indie flick of the same name and now being produced by the Roundabout Theatre Company, "Scotland, PA" is a gruesomely funny adaptation of Shakespeare's bloody tragedy, "Macbeth." Taking place in small town Pennsylvania in the 1970s, the musical puts the Bard's famed drama in the unlikely setting of a fast food burger restaurant where two employees let their desire to have more lead them down a dark path.

"Macbeth" is a classic tale of ambition gone amok, but its royal setting tends to provide a comfortable distance for audiences. By making its 'Lord and Lady Macbeth' a married couple (called Mac and Pat) who are frustrated that at the age of 30 they are still in these go-nowhere jobs, "Scotland, PA" helps make Shakespeare's tale more relevant to everyday folks. I mean, if this nice, ordinary couple could go off the rails, couldn't we all?

Macbeth's other characters take on a new life too. The play's King Duncan is now a greedy, dream-killing restaurant owner; his son Malcolm is a mouthy football jock with a secret; and Banquo is an incredibly sweet, incredibly dense co-worker.

Mac is full of terrific ideas for improving Duncan's restaurant, from offering chicken in nugget form to maximizing the number of fries that can be fit into the fryer at one time. But Duncan has no imagination and shuts Mac down at every turn.

Pat can't stand seeing her husband constantly ignored and humiliated by Duncan, and comes up with a scheme for them to start their own restaurant. This is the beginning of a fateful journey that leads to multiple murders, a plan for worldwide burger domination, and a visit from one Detective McDuff, who threatens to ruin it all.

"Scotland, PA" has loads of winks, nods, and nudges to satisfy fans of the Scottish play, but you need not brush up on your Shakespeare to appreciate it. The story stands just fine on its own, with well-drawn characters and plenty of dark humor. Michael Mitnick's book is hilarious, and Adam Gwon's score is tuneful, funny, and warm-hearted.

Ryan McCartan is wonderful as Mac, a smart, unassuming guy who you really want to root for — until he goes too far. Jay Armstrong Johnson is delightful as the airheaded Banko, a great friend to Mac who is ultimately betrayed. As no-nonsense Detective Peg McDuff, the always-funny Megan Lawrence is an unconventional foil to our anti-heroes. Alysha Umphress, Wonu Ogunfowora, and Kaleb Wells are a riot as three stoners (i.e. Macbeth's witches) who hang out in the woods and make spooky predictions.

Although many of us have probably already seen enough productions of the often-produced "Macbeth" to last a lifetime, this clever and comparatively light-hearted take on the story makes it feel fresh and fun — a perfect treat for the Halloween season.

"Scotland, PA" runs through December 8 at the Laura Pels Theatre, 111 West 46th Street, NYC. For information or tickets, call 212-719-1300 or visit www.roundabouttheatre.org.
Brooke Pierce is a freelance writer and playwright in New York City. Her plays have received staged readings at the American Theatre of Actors, the Ensemble Studio Theatre, and Stage One Theater. Brooke is a member of the Drama Desk and the Dramatists Guild.
Comments on Facebook