Review: Gaga's 'Chromatica' a Healing Musical Elixir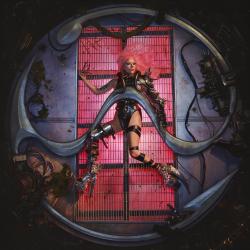 Drink this!
No. We are not asking you to brainlessly down a bottle of bleach and then radiate your innards with UV rays like some fat-fingered Twitter-addict might suggest you do. But if you're looking for a fix in order to fortify yourself against the pandemic that currently has full-stopped our culture and demanded social distancing to save lives, a cure for the doldrum of the routine is about to be unleashed courtesy of one Stefanie Germanotta, best known as Lady Gaga.
In a sea of too much noise and nothingness on the pop music spectrum, Lady Gaga has excelled at innovation, always setting the tone for how pop-dance music can and should feel. This was true when she first emerged on the scene and promptly launched into the stratosphere with her 2008 debut, "The Fame." Her debut single "Just Dance" ignited a revolution, and everyone was soon a devoted "Little Monster." Lady Gaga "the phenomenon" was born!
If there is any lesson Gaga has managed to appropriate from her mentor and pop-culture ascendant, the Queen of Pop, Madonna, it's that marketing is as important as the music. Fortunately for us, Lady Gaga is a musician first and foremost, so as outlandish as her marketing and as provocative as her image is, it's backed up by some well-crafted pop intuitiveness. Gaga has been able to read her audience, very early on diving into a near symbiotic link with her following, never pandering to their tastes and always remaining true to her own artistic evolution.
Following on a career path that includes several Grammy wins, a Golden Globe, and an Oscar, Lady Gaga returns to her dance roots on her sixth full-length album, "Chromatica," a collaborative collection of heavy beats and synth pulses courtesy of producer BloodPop®. This may well be the album that fans have long been waiting patiently for (after the soulful and personal insight of 2016's "Joanne"), and the record that the world needs now to remind us of the energy and entertainment value of pop/dance music at its best.
The revelatory debut single, "Stupid Love," drew the ire of all "Little Monsters," who demanded Gaga perform it live after it had been leaked, but Mother Monster stuck to her guns and made her faithful devotees wait — and it was well worth it. The track may have the simplistic romp-and-bop of a typical pop track, but what it has in spades in Lady Gaga's deliberate groove and lyrical ferociousness demanding our attention, marking it the perfect entry into "Chromatica." The video is also pure Gaga, full of fashion and choreography, but that was just the first taste...
When the eventual tracklist was released and revealed that among the guest performers gracing the collection would include the legendary Sir Elton John and BLACKPINK, that news was immediately eclipsed by the announcement that Ariana Grande was working on the album's second single. "Rain On Me" emerged immediately as the Song of the Summer, and every other artist on the spectrum will be hard-pressed to generate as much electricity as this duet does. The single is everything everyone wanted it to be, and the video is perfection!
Single-handedly, Gaga has reignited interest in the music video. The medium defined a generation, thanks to MTV, and "Chromatica" may be sonically exhilarating, but Lady Gaga has always maintained she is as much a visual artist as a performer (something that she has capitalized on in her live staged tours). Her unique aesthetic translates in spades and enhances the musical experience — "Rain On Me" will emerge as the season's greatest anthem, largely thanks to the vocal power pairing of Gaga and Grande, but the video will outlive the track.
"Chromatica" is a return to form for Lady Gaga, or more likely a return to pop dominance. Though the multi-talented-threat has exhibited over her career all manner of talent and extreme ingenuity it's on the dance floor where we all fell in love with Gaga and where we come to worship on her heels. This album is meant to be transportive. "Chromatica" is rampant with the hooks that made Lady Gaga immediately relevant, and it blends all aspects of dance music through the ages.
There is a '90s Euro-dance feel to many of the tracks, and an electro-synth sound that is extremely prevalent in "Free Woman" and "Sour Candy" (featuring BLACKPINK) has an undeniably sexy groove that will inspire all manner of bad behavior. The nu-disco happiness of "Replay" channels all the best of the decadence of the '70s and would make Donna Summer proud. From the first note to "Babylon," Lady Gaga's "Chromatica" is everything we need in pop-music today — it's a cure-all to the clutter caused by isolation and begs the audience to dance...just dance!

"Chromatica"
Lady Gaga
CD and Digital music platforms
$11.99
https://www.interscope.com/
Native New Yorker JC Alvarez is a pop-culture enthusiast and the nightlife chronicler of the club scene and its celebrity denizens from coast-to-coast. He is the on-air host of the nationally syndicated radio show "Out Loud & Live!" and is also on the panel of the local-access talk show "Talking About".
Comments on Facebook