1 thru 10 of 3886 Stories
LGBTQ rapper and activist Cazwell revisits his "Ice Cream Truck" video a decade later.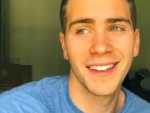 In a few months medical student Ricky Rosen has amassed some 330,000 followers on TikTok. Check out why.
After a week of teasing, Justin Bieber is releasing his new song "Holy" and its music video, which features Chance the Rapper and actor Wilmer Valderrama.
Sam Smith is back with new music — and a new album!
Lady Gaga is returning to her cinematic ways for her new single "911," off her album "Chromatica."
After her VMAs spectacular, Lady Gaga might be readying a new single off her latest album "Chromatica."
Elton John is opening up his vault and releasing an expansive collection of rarely heard and unreleased tracks.
In surprise twist that fit an unexpected year of firsts, Carrie Underwood and Thomas Rhett tied for entertainer of the year at the Academy of Country Music Awards, the first time the top prize has been split between two artists.
Tonight at 7:00 pm ET on Facebook Live, Indigo Girls will be performing a special livestream concert to benefit their crew, management and booking agency.
Justin Bieber is readying new music, just a few months after his album "Changes" was released earlier this year.
1 thru 10 of 3886 Stories