Review: 'Stardust' Offers a Minor Glow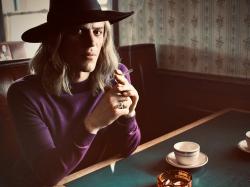 The indie-biopic about the early career of David Bowie has its moments, but ultimately it becomes a forgettable exercise that makes you hope for a "Rocketman" version of his entire career.

Taking place during Bowie's 1971 trip to the U.S. to promote his record "The Man Who Sold the World," "Stardust" promises to make us understand the pop-icon and what created his Ziggy Stardust persona - one of the most iconic and recognizable periods of his career.

The film stars Johnny Flynn ("Emma") as Bowie, and he's quite good, capturing the man in all his quirks and confusion. He is matched by Jena Malone as his longtime partner/wife Angie, who aggressively tries to control his career as if Bowie is a child. It's an interesting dynamic, but one that gets lost for too long in the midst of the casual look at his trip to the U.S.

Marc Maron ("Glow") is Ron Oberman, the Mercury Records agent who travels around with Bowie in his jalopy of a car, trying to get him gigs and interviews. Unfortunately, since only one single ("All the Madmen") actually made it to the radio, stations aren't interested much in Bowie. And with Bowie's penchant for wearing dramatic clothing, no one is quite sure what to do with him.

The frustration of this comes out beautifully in Flynn's performance, and it's fairly fascinating to watch him flail through the trip, trying to make a name for himself by following the "rules," while desperately trying to remain true to who he is. It's a delicate dance and he, like most pop stars of the early '70s, doesn't always learn the steps as accurately as some might like him to. But that's why Bowie became what he became. And where Ziggy Stardust blossomed.

Director Gabriel Range ("I Am Slave") manages to create a bland, but an intriguing film that is probably better for those that know little about Bowie than purebred fans. This is a small film (they don't even use his music) that exists solely as a character study, and a narrow look at one particular moment in Bowie's career.

"Stardust" isn't a shiny spectacle as the title suggests, but it does dust over a star whose contribution to the world of music still remains out of this world.


"Stardust" will be in theaters and On Demand November 25th.
Kevin Taft is a screenwriter/critic living in Los Angeles with an unnatural attachment to 'Star Wars' and the desire to be adopted by Steven Spielberg.
Comments on Facebook