Review: 'Two Eyes' Creates an LGBTQ Tapestry from Three History-Spanning Storylines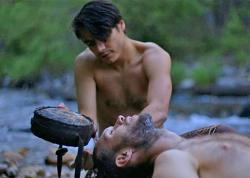 Writer-director Travis Fine's "Two Eyes" tells three stories that take place across the American West and span a century and a half. Affecting and revealing, these three interconnected tales create a narrative that's larger than their parts - a narrative that belongs to the LGBTQ community as a whole.

In 1868 Montana, English emigree Dihlan McCarthy (Benjamin Rigby), a painter, leaves his wife and children for an extended journey in search, he says, of his "muse." Guided by a Native American man named Jacy (Kiowa Gordon), Dihlan searches out places of great beauty - and finds something special in the growing bond between himself and Jacy.

In 1979 California, in the rural town Barstow, Gabryal (Uly Schlesinger) is fascinated upon his first meeting with Alasen (Jessica Allain), a fearlessly self-confident exchange student from London. Bored with Barstow, Alasen sets out for Los Angeles, with Gabryal in tow, to meet with a musician friend named Thandi (queer singer-songwriter Nakhane). The journey brings Gabryal to a place of tragedy - and discovery - that will change him forever.

In 2020 Wyoming, Jalin (Ryan Cassata), a trans man, suffers a pair of emotionally devastating traumas. After a suicide attempt, he finds himself at a center where the non-binary Andrea (Kate Bornstein) offers him hope for the future by offering him simple, accepting kindness and teaching him about a hidden history.

The narrative threads cut across one another, and it's not that hard to figure out how they all connect together, creating a tapestry that feels universal and historical, reaffirming the simple, powerful truth that LGBTQ people have been part of humanity for all of humanity's history.

But each narrative thread is also a stirring story of love. Sometimes it's romance; sometimes it's friendship; sometimes it's the love of a mentor or a healer for a wounded soul.

The film's emotional resonance and atmosphere is enhanced with a soundtrack that draws from the work of supporting actor Nakhane, with two tracks from his 2018 album "You Will Not Die" lending raw emotional power to the film, right along with tracks by contemporary trans musician and filmmaker Ryan Cassata, pioneering trans singer Jackie Shane, and others.

Multi-storyline and anthology movies are tricky, but "Two Eyes" is an entirely successful standout that could appeal to LGBTQ and mainstream audiences alike.
Kilian Melloy serves as EDGE Media Network's Assistant Arts Editor. He also reviews theater for WBUR. His professional memberships include the National Lesbian & Gay Journalists Association, the Boston Online Film Critics Association, The Gay and Lesbian Entertainment Critics Association, and the Boston Theater Critics Association's Elliot Norton Awards Committee.

This story is part of our special report titled "Outfest 2020." Want to read more? Here's the full list.
Comments on Facebook