Top Story
A Republican voted out of office in a primary after coming out as gay in conservative Utah says a backlash during the campaign has him questioning whether his party has a place for...
1 thru 10 of 53771 Stories
Stone Mountain's supersized sculpture depicting Gen. Robert E. Lee, Confederate President Jefferson Davis and Gen. Thomas J. "Stonewall" Jackson mounted on horseback has special protection enshrined in Georgia law.
Vice President Mike Pence has long played the straight man to Donald Trump, translating the president's bombast into more measured, calming language.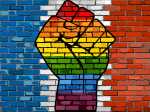 While the French capital's official Pride event was delayed until November to prevent spread of the coronavirus, grassroots groups plan a march through Paris anyway Saturday — led by people of color.
Statues are being taken down throughout the country for political reasons. But what is surely the most unusual instance of a statue — in this case one of a seven-foot wooden penis — being taken down happened in upstate New York last month.
On Independence Day, we Americans — if there is in fact a "we" in American life — celebrate the anniversary of a time when a lot of people, feeling really angry and scared, decided to do something about it.
In NASCAR, the colorful paint schemes on the stock cars themselves have taken a decidedly political turn in recent weeks — and will again this weekend.
The Alabama Department of Public Health said it could not verify reports of so-called COVID-19 parties where students deliberately tried to become infected, but also warned people not to try it.
"Anytime we get together as a community, it allows us to celebrate ourselves in safety with others," says DJ Nina Flowers. "I believe that space is still needed."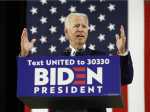 On an average day, President Donald Trump sends about 14 posts to the 28 million Facebook followers of his campaign account. His Democratic rival, Joe Biden, delivers about half that many posts to an audience of just 2 million.
While public health officials are urging Americans to avoid large crowds and hold more muted Independence Day celebrations amid a spike of coronavirus cases, President Donald Trump is going big.
1 thru 10 of 53771 Stories