Between purchasing the perfect gift, buying food to feed the whole family and traveling to see loved ones, over a quarter of Americans have gone into debt due to holiday spending, according to new research.
Sitting in traffic, standing in line at the DMV and giving up chocolate for a year are just some of the things Americans would be willing to do to save a significant chunk of cash on their holiday shopping, according to new research.
In today's world of online shopping, have you ever made a purchase you regret?
As coach travel gets more cramped, airlines have added "premium economy" sections that promise more space and comfort — often at a substantially higher price.
It's not too early to think about your holiday travel. Now is the time to save when booking flights.
If you're looking for deeply discounted airfare, Secret Flying aggregates hundreds of flight routes each week to make your next bucket list vacation a reality.
Instead of taking a personal loan rejection personally, use it as motivation to build your credit and supplement your income so you win approval the next time you apply. Here's how to recover.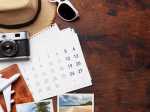 A new survey released by MyBankTracker.com compared how much time people spend planning a vacation versus planning their finances.
Money is about more than numbers: emotions are often at play too. Just as you can seek professional help for unhealthy issues in life, financial therapists can help you deal with problems related to money.
Here are four beach destinations where you could soak up the sun using points and miles.