Top Story
"Sasha Velour's Smoke & Mirrors,' her acclaimed first one-queen show, heads to Boston as part of its national tour.
"Ford v Ferrari" left its competition in the rearview, racing to a $31 million debut at the box office in a No. 1 finish that counted as a win for big-budget originality.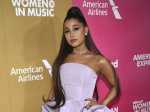 Singer Ariana Grande is telling her fans that she has a bad sinus condition that has made her "very sick" and might force her to cancel upcoming shows on her world tour.
Former Ukrainian Ambassador Marie Yovanovitch's impeachment testimony on Friday spotlighted the role of conservative media in her downfall and the chilling reminder that she remains a social media target.
Hulu is again raising prices for its online TV bundle, as other streaming-TV providers do the same.
The Associated Press breaks down who might score multiple nominations on Wednesday, including performers whose names don't start with the letter L.