There's a strong chance this flu season has peaked, but health officials are watching a recent wave of illnesses from a nastier flu strain.
Ernest Quintana's family knew he was dying of chronic lung disease when he was taken by ambulance to a hospital, unable to breathe.
The Iowa Supreme Court on Friday upheld a lower court's ruling that the state cannot deny two transgender women Medicaid coverage for sex reassignment surgery.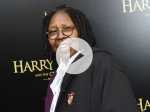 Whoopi Goldberg says she nearly died of pneumonia.
Over the past two years, more than 200 patients have flocked to see Dr. Alan Green after learning that two drugs he prescribes could possibly stave off aging.
Hawaii is allowing visitors who are qualified to receive medical marijuana elsewhere in the U.S. to register and buy it from dispensaries in the state.
It can be hidden in bread, pizza, soup and other packaged foods and restaurant meals. Now, advice to watch out for salt is coming with a more specific reason.
This year is shaping up to be a bad one for measles as already, the U.S. has counted more than 200 cases in 11 states — including about 70 in an outbreak in the Pacific Northwest. But some seem to fear the vaccine more than the disease.
Food and Drug Administration Commissioner Scott Gottlieb is stepping down after nearly two years leading the agency's response to a host of public health challenges, including the opioid epidemic, rising drug prices and underage vaping.
A bipartisan group of state lawmakers announced plans to address surprise medical bills in a way that would take the "burden" off Texans.