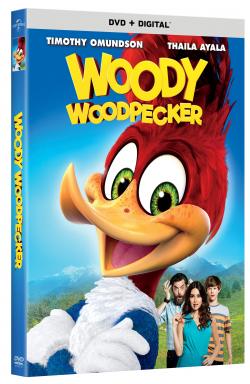 Chaos ensues in the all-new family comedy, Woody Woodpecker, coming to DVD, Digital and On Demand on February 6, 2018, from Universal 1440 Entertainment, a production entity of Universal Pictures Home Entertainment. The film blends live action and CGI animation to tell the crazy and humorous story of an all-out turf war between the mischievous prankster and a big city lawyer who wants to build his dream home in Woody's backyard. Directed by Alex Zamm (Inspector Gadget 2, The Little Rascals Save the Day), Woody Woodpecker stars Timothy Omundson ("Psych"), Thaila Ayala ("Rio Heat"), Graham Verchere ("Fargo") Jordana Largy (Monster Trucks) and Eric Bauza (The SpongeBob Movie: Sponge Out of Water), as the voice of Woody. The Woody Woodpecker DVD and digital features deleted scenes and an exclusive inside look at the making of the film as well as the evolution of Woody's iconic cartoon character.

Woody Woodpecker is back with his signature laugh, wacky antics and wisecracks in his first ever live-action/animated film. Woody must protect his forest home from Lance Walters (Omundson), who starts building his dream mansion in the forest with his son, Tommy (Verchere), and fiancée, Vanessa (Ayala). To make matters worse, Woody must avoid the clutches of two grizzly poachers. With a series of crazy hijinks to sabotage their plans, Woody proves he'll stop at nothing to defend his turf. Get ready for laughs in this hilarious comedy about everyone's favorite woodpecker!

Woody Woodpecker is a legendary icon created by Walter Lantz in 1940. Woody Woodpecker & Friends have entertained kids for more than 75 years! Woody Woodpecker cartoons appeared in theaters until they debuted on television in 1957. Woody's popularity resulted in new shows airing across several decades. "The Woody Woodpecker Show" has been broadcast in over 155 territories and 105 languages worldwide. He is one of the most memorable cartoon characters in animation history, featuring the little red -headed bird with the unforgettable laugh, who's forever pecking his way out of trouble. Woody has evolved from a cartoon TV character to a Pop Culture Icon with his fearlessness, crazy antics and smarts.

BONUS FEATURES

• Guess Who? The Evolution of Woody - Woody Woodpecker is one of the world's most iconic animated characters. In this featurette, we explore how Woody's look and personality have changed since his introduction in 1940.

• The Making of Woody Woodpecker - Filmmakers and cast discuss why this version of the Woody character is so appealing and how his brand of physical humor translates across audiences.

• Working with Woody - Filmmakers, cast and crew reveal the specific challenges of filming a movie whose main character is CGI.

Website:
http://uni.pictures/WoodyWoodpecker

Enter to win!

Thanks for visiting EDGE!

Enter this contest
If you already have an account with EDGE, all you need to do is log in; we'll pull your address information from your account and simply ask you to verify it. If you do not yet have an account with us, register now! It's easy and free, and you'll never have to type in your personal information again. If you prefer to enter this information manually, you can use the manual entry link below.
Register
Manual Entry
Click here for contest rules.
* Please be aware that creating multiple accounts for the same person will disqualify you.