'Leaving The Blues' Celebrates Gay, Jazz Great Alberta Hunter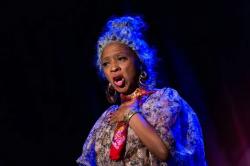 A tender heart beats inside Jewelle Gomez' "Leaving The Blues," along with an impassioned, insistent plea for tolerance in the face of bigotry. As with a previous work, "Waiting For Giovanni," Gomez' new play, the second in a trilogy, focuses on the struggles of gay black artists in repressive eras of recent American history.
Alberta Hunter was a popular blues and jazz singer who began performing in the early 1920s. She wrote and recorded a lot of her own material, appeared in clubs, on film and stage, and became an international celebrity. Hunter abruptly ended her career in the 1950s and took up nursing. She returned to singing, triumphantly, in 1977 - when she was in her eighties. It's a remarkable, inspirational career, worthy of dramatic exploration.
"Leaving The Blues," a TOSOS production at the Flea Theater, begins with Hunter, commandingly brought to life by Rosalind Brown, working as a hospital nurse. She's visited by her deceased friend, vaudeville performer Bert "Will" Williams (Michael Michele Lynch), who slyly prods the reluctant Hunter to get back in the business by taking her on a chronological train ride through her life.
Their journey begins when her career is in full bloom, traverses the highs and lows of her professional life, and ends with her return to the stage. But "Leaving The Blues' is about something more personal than Hunter's career trajectory. The focus is her romantic relationship with Will's niece Lettie. vividly portrayed by Joy Sudduth.
It's here in the hands of these two compelling actors and Mark Finley's fine direction that the play soars. Hunter and Lettie's relationship is warm and playful, and their love for each other is deeply felt. As someone who worked herself up from poverty and knows what's at stake, Hunter insists that the relationship be kept private. She sternly reminds Lettie that gay black women can be locked up for wearing men's clothes: "The weight of this life is not a cakewalk."
The younger, more progressive-minded Lettie, resents being a secret in the famous singer's life. In Paris, where "colored people get to be people," Hunter invents a romantic relationship with a count. This is the last straw for Lettie, who makes a public display her resentment. These two strong women's heated arguments and sensitive reconciliations are the most powerful scenes in the play.
Hunter and Lettie's romance is paralleled by that of the Calabash Cousins, a vigorous tap dance team in caps and suspenders, who tour with Hunter, and develop a friendship with her that lasts their lives. Cal (Benjamin Mapp) and Calvino (Cooper Sutton) are lovers, and their playful relationship is charmingly conveyed by Gomez and the actors. The two don't reveal their secret to Hunter until late in the play, and when they get around to it, it's no surprise to her.
Rosalind Brown, more glamorous than Hunter (whose mother thought she was "too dark,") captures the singer's essence with a blunt, no-nonsense attack and palpable vulnerability - and her singing voice is a major force. Joy Sudduth brings smart sophistication to Lettie - in sharp contrast to the earthy Hunter. The handful of Hunter songs - about men and God, but never about her lover - are skillfully accompanied by Assaf Gleisner on piano, under David Shenton's musical direction.
TJ Greenway's set design is simply suggestive of a club milieu - a piano and red scrim curtains to one side, and a dressing room table, trunk and clothes rack, all framed by the patterned black curtain on the other. Sound Design by Morry Campbell and Lighting by Ben Hudson enhance the play's period atmosphere and move us through time, and Ben Philipp provides a parade of flashy period costumes for Alberta and Lettie - and also May and Blanche, two supporting characters given flair by Tsebiyah Mishael Derry.
Despite the many potent scenes and superb vocals, the play's structure is meandering and at times, repetitious. "Leaving The Blues" doesn't build as dynamically as it could, especially in the second act. And the "travel-guide from the dead" device, while functional, is overly familiar, and not used to full effect here.
Toward the end of the two-act play, the aging Hunter, retired from nursing, has become pals with Beebe, her young, openly gay neighbor, played with appealing warmth by Ameerah Briggs. Beebe's casual attitude about her sexuality and her tidbits about gay life in the post-Stonewall era are surprising to Hunter, and the inter-generational pair develop a caring friendship, lovingly written and acted.
At age 86, when Hunter takes the plunge and performs at a Greenwich Village jazz club, wearing big earrings and bright red lipstick, Beebe packs the house with her lesbian friends so they can experience the legend she's grown to love. The theatre is transformed into the cozy club, and at long last, Hunter sings a song for Lettie - a terrific uptempo jazz number written for "Leaving The Blues" by Toshi Reagon. Alberta Hunter's life ended in triumph, and so does Jewelle Gomez' heartfelt play.
"Leaving The Blues" continues through February 8 at The Flea Theater, 20 Thomas Street, New York, NY. For more information, visit The Flea Theater website.
Comments on Facebook