1 thru 10 of 7631 Stories
Sofia Loren and Valentino have received a standing ovation from a packed house of fashion and Hollywood A-listers during the third edition of the Green Carpet Awards honoring progress toward sustainability.
Patricia Arquette is having a "wonderful time" in her acting career, but the Emmy winner said she is still struggling with the death of her sister.
The dual tones were the strongest trend among the women on Sunday night, where outfits from Zendaya, Gwendoline Christie and current red carpet darling Billy Porter also turned heads.
Michelle Williams said in her Emmy-winning speech that women need to be listened to and fairly compensated for their work.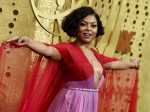 Did someone send a memo? Taraji P. Henson, Zoe Kazan, Susan Kelechi Watson, Mandy Moore and Marisa Tomei all showed up to the Emmys in two-tone looks of pink and red that stood out on the awards' purple carpet.
When fans of "Queer Eye's" Jonathan Van Ness read his upcoming memoir "Over the Top," due out on September 24, they will likely be surprised by his frankness, which includes the disclosure that he is HIV+.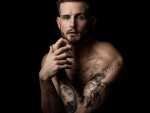 "Younger" star Nico Tortorella has a new book in which the actor opens up about sexuality, gender, their love life, substance abuse and run-ins with celebrities, including Ashton Kutcher.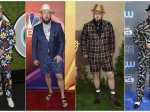 Chris Sullivan may or may not win at this weekend's Emmy Awards, but it's a sure bet that when he strikes a pose on the red carpet, his unconventional attire will make a statement.
Jennifer Lopez won Milan Fashion Week on Friday, wowing the crowd at Versace when she emerged wearing a version of the jungle dress that nearly broke the internet almost 20 years ago.
On a segment with "Good Morning Britain," Grammy Award-winning producer Mark Ronson revealed that he identifies as "sapiosexual."
1 thru 10 of 7631 Stories