A leading publisher will release a book edition next week of the House Intelligence Committee's findings on President Donald Trump.
Film historian and biographer William J. Mann chats with EDGE about unraveling the myths around the greatest American film actor in history — perhaps the greatest actor, period.
Art, architecture, music or travel: Coffee table books can fill just the right gift niche, especially when the cost would be budget-busting if you bought one for yourself.
"A is for Audra" strikes at the heart of inspiration for young Broadway devotees. It is an homage to some of the loveliest leading ladies Broadway has known.
Donald Trump Jr.'s "Triggered" is a No. 1 New York Times bestseller, although not without an edge.
President Donald Trump's former U.N. ambassador, Nikki Haley , alleges in her upcoming memoir that two top administration officials tried to enlist her in opposing some of Trump's policies.
A forthcoming book by an anonymous author identified only as "a senior official in the Trump administration" describes President Trump as volatile, incompetent and unfit to be commander in chief, according to excerpts published by The Washington Post.
A memoir by Mariah Carey is on the list of titles from Andy Cohen Books.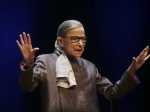 A new book on Ruth Bader Ginsburg explores the Supreme Court justice's thoughts on the #MeToo movement and her hope that non-disclosure agreements, which have come under fire in sexual misconduct cases, "will not be enforced by the courts."
Robyn Crawford, one of the late Whitney Houston's best friends, revealed in her new memoir, "A Song For You: My Life with Whitney Houston," that the two shared a romantic relationship for years.