Volkswagen subsidiary Audi says it's cutting 9,500 jobs in Germany through 2025 as part of a transformation plan to make the company "lean and sustainable."
London's transit authority said Monday it is not renewing Uber's license to operate in the British capital, dealing a major setback to the ride-hailing company.
Elon Musk says Tesla has received nearly 150,000 orders for its new electric pickup truck since the automaker revealed the futuristic vehicle earlier this week to mixed reviews.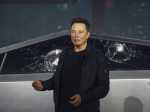 The much-hyped unveiling of Tesla's electric pickup truck went off script Thursday night when supposedly unbreakable window glass splintered twice when hit with a large metal ball.
Automakers sue each other on occasion, but no one in Detroit can remember one accusing another of bribing union officials to get an unfair labor cost advantage. Yet that's what happened Wednesday.
Tesla CEO Elon Musk is taking on the workhorse heavy pickup truck market with his latest electric vehicle. The "cybertruck," an electric pickup truck, will be in production in 2021, Musk said at the Los Angeles Auto Show Thursday.
The nation's road-safety regulator is under fire again for what critics call lax oversight of tests involving autonomous vehicles.
New electric vehicles, several new small SUVs, a redesigned compact car, a plug-in version of Toyota's top-selling vehicle and a futuristic electric station wagon concept car from Volkswagen are among the new models on display this week.
More than 800 rear-seat passengers who weren't wearing seat belts were killed last year in U.S. traffic crashes, and a highway safety group says states aren't making enough progress in getting people to buckle up.
The National Transportation Safety Board on Tuesday condemned the lack of state and federal regulation for testing autonomous vehicles before finding that a distracted human safety driver was the main cause of a fatal 2018 Arizona crash.