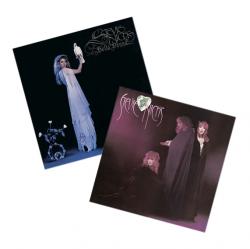 STEVIE NICKS TO RELEASE DELUXE EDITIONS OF HER FIRST TWO SOLO ALBUMS

Legendary Singer-Songwriter Builds On Her Unparalleled Legacy With Deluxe Editions Of Bella Donna And The Wild Heart

Available From Rhino TODAY

24 Karat Gold Tour With Pretenders Kicks Off October 25

Stevie Nicks, the legendary singer songwriter whose highly acclaimed 30 year solo career includes seven studio albums, iconic hits, and record sales in the millions, will release deluxe editions with newly remastered audio and never before released live and recorded music from her first two solo albums Bella Donna and The Wild Heart. The end of October dual releases will come out in conjunction with the start of Nicks' 24 Karat Gold Tour with Pretenders which begins in Phoenix on October 25. Complete tour schedule follows this release.

BELLA DONNA: DELUXE EDITION is a three-CD set for $29.98 and THE WILD HEART: DELUXE EDITION is a two-CD set for $19.98. Both will be available on November 4. On the same day, newly remastered versions of the original albums will also be available on LP ($21.98) and CD ($11.98). The music will be available digitally and through streaming services as well. A complete list of cuts on both deluxe editions follows this release.

"I've had so much fun reliving the making of Bella Donna and The Wild Heart while working on the liner notes and listening to all of the alternate versions and demo takes," says Nicks. "The liner notes are so much more than liner notes. They are like a little novel. I tried to make whoever reads this feel like they were there. I think...I succeeded...."

Nicks joined producer Jimmy Iovine to begin recording songs for her solo debut, Bella Donna following the recording of Fleetwood Mac's Tusk and subsequent tour. The 1981 album was quickly certified platinum. Today, the album is 4x platinum thanks to Nicks classics like "Edge Of Seventeen," "Stop Draggin' My Heart Around" (with Tom Petty and the Heartbreakers) and "Leather And Lace" (with Don Henley).

BELLA DONNA: DELUXE EDITION uncovers unreleased versions of "Edge Of Seventeen" and "Leather And Lace," as well as rarities like "Blue Lamp" from the Heavy Metal Soundtrack and "Sleeping Angel" from the Fast Times At Ridgemont High Soundtrack. This deluxe edition also includes a concert from 1981 that features performances of songs from Bella Donna along with several Fleetwood Mac favorites.

Nicks returned in 1983 with her follow-up, The Wild Heart, which peaked at #5 on the album chart and has been certified double platinum. The album produced hits like "Stand Back," "Nightbird" and "I Will Run To You," which features Tom Petty and the Heartbreakers. THE WILD HEART: DELUXE EDITION builds on the original album with unreleased versions of "All The Beautiful Worlds" a session version of "Wild Heart" and "Garbo," the B-side to "Stand Back."

Enter to win!

Thanks for visiting EDGE!
Enter this contest
If you already have an account with EDGE, all you need to do is log in; we'll pull your address information from your account and simply ask you to verify it. If you do not yet have an account with us, register now! It's easy and free, and you'll never have to type in your personal information again. If you prefer to enter this information manually, you can use the manual entry link below.
Register
Manual Entry
Click here for contest rules.
* Please be aware that creating multiple accounts for the same person will disqualify you.